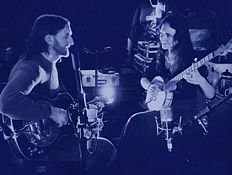 Edgelarks began their musical journey together living in a small caravan in the hills near Exmouth, Devon. Phil had returned, Chaturangui in tow, from studying slide guitar in India with the master musician Pandit Debashish Bhattacharya. Hannah had grown up playing fiddle at traditional folk sessions. The pair met when they were both recruited to alt-roots outfit The Roots Union, travelling from festival to festival, tent to tent, wandering the highways, byways, and old forgotten pathways of these islands. When the band folded, Phil and Hannah formed a duo. They followed in the footsteps of the ancient troubadour tradition, picking up tunes, songs and stories along the way. Spotted busking on the seafront at Sidmouth Folk Festival by champion of independent music Steve Knightley, they soon found themselves touring nationally, supporting the likes of Show of Hands and Seth Lakeman, and eventually winning the prestigious Best Duo award at the 2014 BBC Folk Awards.
Extensive international touring followed, from Japan to South Africa, Canada to Australia. Collaborations saw them team up with Peter Knight (ex Steeleye Span) to form the Gigspanner Big Band; and join Show of Hands as part of their Wake the Union band for a very special show at the Royal Albert Hall on Easter Sunday 2017. As part of the all star lineup for folk-disco project The Band Of Love, they performed to a crowd of 50,000 and broadcast around the world alongside Kylie Minogue and the Manic Street Preachers, for BBC Radio 2's Hyde Park Festival in a Day.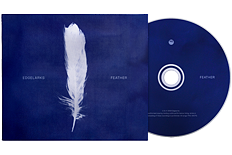 From recording their first album, Singing the Bones, at home in their living room in the dead of night, they have gone on to produce four more records, each time refining the process and honing their production skills - Mynd, Live in Calstock, and Watershed (which garnered them a second nomination for Best Duo at the BBC Folk Awards in 2016). With the fourth album, Edgelarks, came another Folk Award nomination, and the decision to adopt the band name (they previously performed under their own names).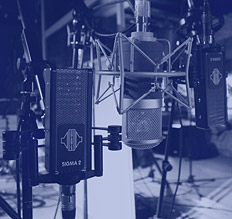 Feather - released May 2019 - will mark another step in Edgelarks' journey. In April 2018, they retreated to a remote cottage in Ulpha, western Cumbria. They breathed in the mountain view, banked up the fire, and took their many instruments out of their cases. Then they sat down, and wrote. Tired of the navelgazing tendencies of sad songwriting, and the terrible events frequently depicted in the folk ballad tradition, they decided to turn their attention to an oft overlooked but vital facet of our lives: hope.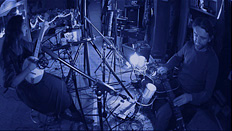 Swiftly, a set of songs and tunes emerged. Stories of wonder from the natural world; tales of rejoicing and long lost returns; and simple thanksgiving for their own surroundings and place in the landscape. Informed by world rhythms, British folk roots, and the duo's penchant for making as much noise as possible with only two people, the album is an upbeat celebration, an incitement to hope.
"Subtle, atmospheric... Bravely original"
Robin Denselow, The Guardian ****
"Keen, curious and concerned intellects are at work here. Hannah Martin
is an enthralling singer; Phillip Henry plays all manner of guitars and the
harmonica, terrifically."
Julian May, Songlines
***** Top of the World album
"Rich and complex - there is something of June Tabor about Hannah's vocal performance - a voice that is strong and flexible and which, coupled with Phillip's instrumental virtuosity, suggests we're hearing stars of the future"
Dai Jeffries, R2 ****
"This duo has a combination of virtuosity, intensity and charisma
that merits a slot on much bigger stages"
John L. Walters, The Guardian
"An imaginative and innovative album - songs that linger in the memory
held together by the fine musicianship of Henry and Martin.
Strong and original - an unusual treat"
Martin Chilton, Daily Telegraph ****